Image
Suspending work
If you're a subcontractor and someone owes you money, you have a choice to suspend work in order to encourage payment from that person.
Under the Building Industry Fairness (Security of Payment) Act 2017 (BIF Act), you are entitled to suspend work or the supply of related goods and services if:
you've submitted a payment claim to the respondent but they do not pay you in full on or before the due date for payment, or
you have an adjudication decision and the respondent fails to pay the whole of part of the adjudicated amount​.
By suspending work, you'll stop the amount of money owing to you from increasing and it may give you some time to decide on the best resolution option for your situation. ​
How to suspend work
To suspend work, you must:
give the person who owes you money (the respondent) written notice of your intention to suspend work. The notice must state that it is made under the Building Industry Fairness (Security of Payment) Act 2017​
wait at least two business days before suspending work after giving your written notice to suspend work.​
Your right to suspend work exists until the day on which you receive payment. During this time, you may also choose to pursue other payment dispute resolution options.
Before suspending work​
As there may be serious consequences for stopping work, you should obtain legal advice if considering this option to make sure it is a suitable choice for you in your particular circumstances.
It's also a good idea to lodge a monies owed complaint if the respondent is a QBCC licensee. ​
During work suspension
As the person who is owed money (the claimant), you are not liable for any loss or damage suffered by the respondent during the time you have suspended work or stopped supplying related goods and services.
Additionally, if you incur a loss or expense because the respondent removes any part of the work or supply from the contract, the respondent is liable to pay you the amount of the loss or expense.
---
Last reviewed: 30 Aug 2021
Last published: 30 Aug 2021
Related resources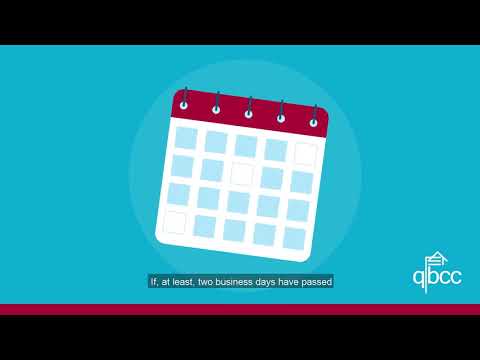 ---
Last reviewed: 5 Oct 2021
Last published: 5 Oct 2021
Suspending work video
Play video